In this blog I would like to talk about my grandmother, the mother of my mom. She lives in Algarrobo, but she arrived Santiago last week because she needs to visit different doctors for diabetes, her left eye has cataract, and other health problems because of her age.
Before I told you more about my grandmother I want you to know that I love her so much, in spite of everything.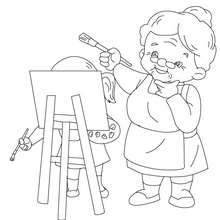 It is really difficult to deal with her, I think that she has been living alone so many years that she has forgot how to deal with other people. She is really loud mouth, in part because she is hearing-impaired but also because she likes that all people listen to her, so she doesn't respect when the people are sleeping on the weekend. She also watches TV with a very high volume and you can listen to it in all the house.
She also is really sexist, thing that I hate a lot because we don't understand the world in the same way and she has a really traditionalist
mentality that I can't understand very much and of course she doesn't understand me.
But not all is so bad; she is always very worried about my mom, my brothers and me. As I have been growing up she also has more respect for me, so she thinks the things that I talk to her before telling me that I'm a girl who doesn't know anything and sometimes she admits that I'm right. Also she cooks really well, the problem is that she doesn't do it frequently, she prefers painting, and she also does that really good.
Well, that is my grandmother, she is a really difficult person, but -like I said before- I love her in spite of everything.